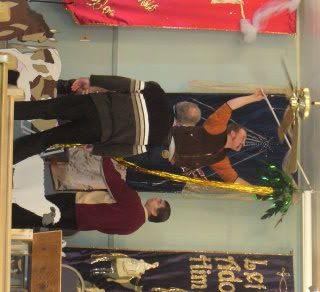 You are invited to the Church on the Hill Christmas program:
'It's a Boy'

on Monday, Dec 22 at 7 pm.
The cast of characters are the Sunday School children, Youth Group, and adults from the congregation.
Here's a sneak preview of the set...just ignore the guys hanging up the palm tree...
We'll also have a couple special songs by the newly formed COTH ladies choir. I heard them practice today, and they sing wonderfully together.
After the program, we'll head downstairs for food and fellowship.
So please join us.