Last Sunday, Pastor Lorne invited 3 members of the Youth Group to give a report on what they were up to the week before when they attended Wrecked at the Regina Youth Retreat. (Jason, a 4th mbr also went but wasn't at church on Sunday.)
This was going to just be a small part at the top of the blog but as I transcribed it, I realized Jessica's report was enough for a post alone, so this will be the Youth Report and the next post will be Pastor Lorne's message.
Nick said he was involved with the Evangelism workshop. He said the leader told them how they go to different houses sharing their faith. He also showed the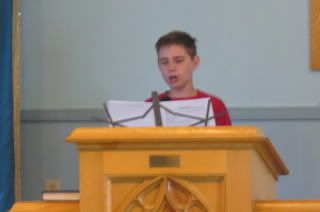 m videos and a commercial. Nick said they watched a Daffy Duck cartoon. It showed that things don't always go your way. Another video he remembered was something about Germans (I believe he meant Hitler) and how things aren't always what they appeared to be. Apparently, the video showed a normal vehicle but it had springs underneath. Boing.
N
ext, Samantha spoke about attending a workshop on art. She was told to draw what God put on her heart to draw and then to interpret it in a 'God' way. She showed us a picture with what looked like a dark frame around the outside. Sam said we are like that when we try not to let God in. The middle of the picture was a collage of colors. Sam said God wants us to be happy when we believe in Him.
Finally, Jessica spoke about 'A Glimpse of Street Invaders' which is a micro-version of the Youth Missions program, Street Invaders based out of Eston where our youth group attend a retreat each Spring. For the actual Street Invaders program, youth attend a one week training session before hitting the streets, in communities across Canada and share their faith.
For this micro-version, however, they condensed a three week program into a 4 hr workshop. The first hour on Fri night was spent getting to know about St
reet Invaders, listening to the leaders share their faith, and taking part in practical exercises. The leaders stressed you had to keep praying for each other.
On Sat, the youth broke into 5 teams and went out to work the Street Invaders program.
Jessica said:
One team went to Sobey's, the grocery store, to bag and carry people's groceries and they also handed out free hotdogs. They said this was really interesting because they were aiming people who weren't really that poor and everyone was saying, 'Well, why are you giving me free food? I don't need it' and stuff. And they (the team) were working that way.
There was one team that went to Victoria Park and they had a sign that said, 'Free Hot Chocolate, Free Donuts, Free Prayer'. So, they were handing out free hot chocolate, free donuts, and they had a really good opportunity—there was one man who was drunk and he was talking to them about God and how he used to be a Christian but then his son died. They (the team) were really ministering to him.
The 3rd team went to the University and they had a survey. The guy who was leading this team goes to the University a lot and really has a heart for the University ministry and he uses the surveys to get people talking about God and aware of their faith.
The 4th team was the one Jason was a part of and they went to a church in North Central Regina where they have a youth program where every Sat. The youth come and they give them a free meal and play all these games with them. After, the leader of that team said Jason was really shy at first but in the end, he was the one going to the other kids and getting them to participate and was building friendships with them. And he (Jason) was really excited about them and was telling me after, that he was playing basketball and competing with them and how they were asking him about God, and he seemed to enjoy that.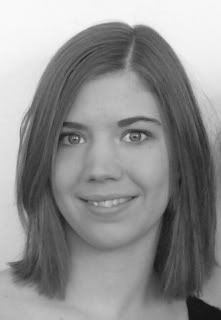 My team was called The Love Bus. I don't remember the name of the church, but they have a program every Sat (* see below) where they take the bus and go to all these different houses in Regina where these kids live. These kids are living under impoverished conditions and are really poor. They pick them up and bring them to a park in Regina, give them all a free lunch, play with them for an hour, pray with them, then they go back.
But, because this was on the Sat of the Rider game, they didn't have enough volunteers to do what they usually do, because they all had season tickets. This jived with our schedule so it ended up working really well. So, we did what they call house visits. We took the van because we didn't have enough people for the Love Bus, and we went to the church first and we helped them make these lunches. We made 48 lunches and each one had a sandwich, a juice box and cookies and candy. So, we made all these lunches and then went out to all these different houses. We'd go there and Donna, the woman running it, would get these kids to come out. We'd stand in the yard because their parents were in the house and they didn't really feel comfortable with us going in. So, we'd stand in the yard and just play games with them and get to know them. One girl loved to sing so she was telling us about all these songs she'd written about God. We played tag with them, and catch with one kid and this one guy was showing us his stuff and we really got to know them. We'd give them their lunch and pray with them before going on to the next house.
And, it was really crazy because I was with 5 other girls on my team. We were with out leader, Craig. It was really funny because every single girl on my team absolutely loved to sing so, in the vehicle between the houses, we were all singing these songs and Craig was laughing because he doesn't really like to sing at all, but he enjoyed listening to us. And we'd go to these houses and the kids like to sing, too and we were singing songs with them.
The Love Bus program doesn't always have enough volunteers

to pick up the kids every Sat, but they make sure that every Sunday, they use the bus to pick up all the kids and bring them to church for Sunday School. So, they (the kids) know all these children's church songs we were singing with them.
Craig is a Bible school student and he's been on mission trips to Africa and all over the world and he was saying these kids in Regina were in the worst condition he's ever seen. Even worse than Africa. Like, you'd go to their houses and there was garbage all over the yard and the windows were boarded up because they didn't have any glass in them. In this one house, they were missing a pane of glass in the middle of the door and the kids didn't open the door, they'd just run through the pane of glass because there was nothing there. Every house we'd go to, the kids would be bursting out the door as soon as we got there and they didn't have shoes or proper coats or whatever, so, they'd be bursting out the door and they'd be so excited to see us and just wanted to get to know us.
And, it was really awesome and really encouraging because these people in the program make sure—every time they're there—they tell them about the word of God and pray for them and these kids were really growing. And, some of them—like there were two 12 yr olds we went to and they are set to become leaders in their church and they grew up in horrible conditions—their mothers are prostitutes or on drugs and these kids are growing up and learning about God.
So yup, that's what I did.
Pastor Lorne thanked the youth for their reports and we showed our appreciation by applause to these kids who are young ambassadors for our church. Lori led us in a prayer for the youth and teenagers who serve God and witness for Him.
*
Just Kidding
- This outreach is for inner city children who are picked up on a bus on Saturdays. They are treated to snacks, singing, games and the gospel. They need volunteers to drive the bus (class 2 license), donations of treats and Christmas gifts. For more info, go here
http://www.loveliveshereregina.com/
If you'd like more info on Street Invaders, go here
http://www.streetinvaders.ca/index.html
-