On Sunday Aug 24th, Pastor Lorne announced we'd be having a Baptismal service and so his message was why a person would want to get baptized. He told us that
'Baptism is an outward example to people who witness it that the person has decided to follow Christ in their life and they're going to dedicate their life to him and whatever direction in life He will lead them.'
So on Sunday, Aug 31st, after the morning service, everyone went out to Wes and Lori's farm for a Baptismal Service.
6 people had decided to take the plunge for Christ.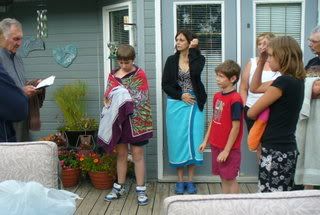 Here, Pastor Lorne explains that getting baptized is following Christ's direction and the only criteria for baptism is that you believe in Jesus Christ and ask Him into your heart.

To put it bluntly, someone grabs you and pushes you down under the water and leaves you there for a minute and then brings you up. It sounds like a weird thing to do, but a person yields himself to that symbolizing the fact that they're yielding to Christ and they're gonna live their life for Him.
The water's great! So, who's first?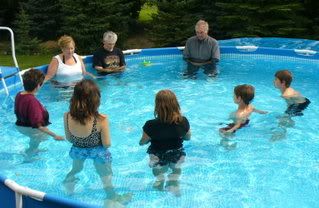 Lori leads in prayer.

He told me before the event that he'd been practising holding his head under water.



Samantha before photo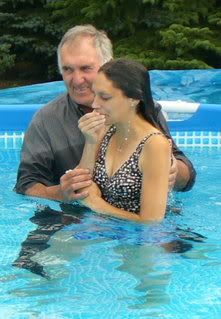 Tammy after photo




I would like to thank Karen for taking the photos of this momentous event.
-