Scriptures
: Psalm 115:14, Isaiah 53:5
On Sunday, June 29th, Robin - the Sheriff (director the rest of the year) of nearby Circle Square Ranch - corralled a herd of summer staffers and brought them to COTH. It was nice to see the rows of eager youngsters.
We also welcomed Eva back to Canada. A previous exchange student from Germany, we consider her a permanent member of our church. She'll be in Glenavon for another month, so be sure to visit with her either at church or at Pastor Lorne and Dianne's farm.
Although Pastor Lorne was there, he was still suffering the effects of some type of flu bug, so Greg Dueck was our guest speaker.
Greg, a singing cowboy, hails from Moose Jaw and his testimony included everything from his personal battles with drug addiction and cancer to his dream of being a singer. Of course, this was qualified later on when he sang some gospel songs.
He said he has an amazing testimony because although he was raised in a Christian home, as a teenager, he walked away from God. But what he wanted to stress to us was that Jesus stayed with him all through those years.
Greg said one of the things he's learning is that every word that comes out of our mouths has an assignment. He said if he goes to his young son and says, "You did that all wrong. You'll never get it right", he's just planted a seed of death. But if he says something like, "Hey, keep trying until you get it right", then he's planted a seed of life. He said every word that comes out of our mouth either has an assignment of death or an assignment of life.
All day long we say these things that aren't true and what we've done is trained our minds not to believe a word that comes out of our mouth. An example is when we say something like, "My feet are killing me." But they're not.

Psalm 115:14 'May the LORD make you increase, both you and your children. May you be blessed by the LORD, the Maker of heaven and earth. The highest heavens belong to the LORD, but the earth He has given to man.' Greg said that says to him the words of his mouth have authority. Anything concerning heaven belongs to God. But anything belonging to earth is Greg's responsibility.
Greg said he's built his faith around situations. Standing at his dad's dying bedside, he prayed for healing and he doesn't fully understand the reasons why all prayers aren't answered. At that point Greg looked at us and asked, "Is it okay to preach a message I don't understand?" He answered it by saying, "I don't need to fully understand to know that God has my back and will heal me if I ask him to."
He asked if we know what he means. We build our faith on our situation and that's where our faith lies. Isaiah 53:5 says, '
But He was pierced for our transgressions, He was crushed for our iniquities; the punishment that brought us peace was upon Him, and by His wounds we are healed.
' Greg said it doesn't say we
might
be healed, but that we
are
healed. He said we put God in a box and want our prayers answered a certain way. Greg wanted to be healed without surgery. That would've been great but that's not what happened.
He said 6 yrs ago when his wife was pregnant with their 1st child, he was diagnosed with cancer. Doctors confirmed that Greg had a football size tumor behind his lung. Because he believes God is a healer, he prayed for compete healing so he wouldn't have to go through surgery. That prayer wasn't answered. But the bottom line of that prayer was that he wanted to live and
that
prayer was answered. With the chance that Greg could have died and not seen the birth of his child, he underwent surgery which not only removed the tumor, but some chunks of ribs as well.
Obviously, Greg survived. Greg said after the 1st surgery, the tumor started to grow back. So, the doctors operated again. This time, they went back into his spine and removed 4 of his vertebrae. Then they put rods and screws to replace them. The radiation took 6 weeks in Toronto. He was able to bring his wife and daughter – his pretty little girl whom he thought he'd never see on earth. He said he had a wife who loved him and dug in with her faith. When it was over, he was told to take it easy for awhile.
But a few weeks later, Greg was riding pasture and basically doing things he shouldn't've been doing yet and he
broke one of the metal rods. Back for surgery he went. When they pulled the rods out they found a pocket of infection. (Greg held up this rectangular metal contraption made of rods and screws – from where I sat in the back of the church, it looked about 3 inches square and 8-10 in long – ouch!) Because of the infection, they couldn't put the rods back in so they closed him up and told him to be careful!
Six wks later, he was scheduled for another surgery to put the rods back. Greg said they took x-rays before the operation. On the day of his Dr's appt, Greg said he knew something was up when the nurse smiled at him. He said everyone knows that nurses aren't allowed to give out any news and usually they show no emotion. When the doctor called him into his office and asked how he felt, Greg said he felt pretty good. Then the Dr showed him the x-rays as well as interoperative photos before surgery and photos of them taking stuff out with bottle brushes. He said after looking at the photos, he looked at his wife and said, "Now you know me inside out." (laughter) Greg said during one of his other operations, they had fused his spine with bone from his hip but after 4 yrs, it hadn't healed properly. Now looking at the photos, they saw it had fused in 6 wks while at home on the antibiotics and he didn't need the rods any longer.
Greg said he and his wife have faced tragedy during pregnancy. Many times they became pregnant but miscarried. During one of those pregnancies, a tumor was discovered in her uterus. It grew to the size of a 3 mo baby. When she hemorrhaged again and the doctors removed it, they advised she have a hysterectomy to take out the uterus. But, Greg said, he and his wife came up with a different plan. He lifted up his Bible. He said his whole life all he wanted to be was a cowboy and a singer. And all his wife wanted to be was a mom.
Greg said he and his wife are healed and they have 3 kids.
He said when your life is threatened, or your family is threatened, you start to believe and know why you believe it. He said he looked in the Bible to see why he deserved to be healed. He said it's a 'win-win' situation. If you die, you go to heaven.
Greg said 16 yrs ago he was in a motorcycle wreck. They told his family to say good bye because he wasn't going to make it. He said he was on a respirator and everything. He ended up with plates and screws. He said when rapture comes, all you're gonna hear from him is ka-ching, ka-ching... (laughter)
He said when he was 12 yrs old, the car he was in hit a horse. The car rolled 8 times. He said his dad had been ejected from their car and was lying there, not breathing. Greg said he ran 1 ½ miles for help. But on the way, he tripped over the groaning horse that their car had hit. From then on, he was scared of horses. He said he had dreams for years after that about horses being in the house and chasing him up the stairs. He said with God help he overcame those fears. He said he must've because for the past 5 yrs he's been a pasture rider and farrier.
He said to get to Glenavon, he could've ridden a motorcycle, or a horse, a helicopter or train – maybe – lot of ways to travel. And a lot of different routes to get here. He said there are a lot of ways a need can be answered. But he said it's up to God to decide how. He said he's discovered a way to get God to answer all his prayers, though. He knows that's harsh but it's simple...just pray His will and He will answer all your prayers. If it's His will that Greg prospers and lives in good health, then Greg will prosper and be in good health.
Greg said he didn't expect to have to deal with cancer or 3 surgeries to get where he is today. He said he's a motorcycle wreck survivor, a car accident survivor and a cancer survivor.
He said grip onto His Word. Hold tightly. Share with everyone you meet.
Greg sang a couple songs.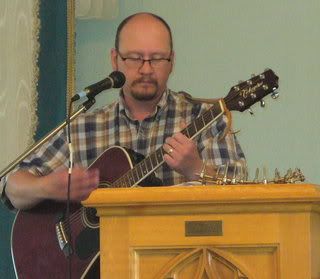 Then he said at 18, while driving truck with his dad, his dad asked what he was going to do with his life. Greg said sing. His dad said, "You'll never make any money singing." And Greg said he looked at his dad and said, 'Tell that to Garth Brooks." (laughter)
Greg said he wrote the next song for his little kid's dedication although he said he doesn't know why we stand in church and dedicate the child to God since its His already, but anyway, he wrote it for that event. I didn't catch the title, but it was about how he wanted to be a cowboy when he was a young boy, then as a youth, he wanted to be singer in a rock band but now that he's old he has the best job of all – he's a daddy.
Greg mentioned that earlier on he had a chance to sing in a rock band. But he said, the band would get stoned before each practice or gig and because he didn't have any experience, he'd get 'baked' as well. But he thanks God that he's over that and he's been clean for years. (Cheers and clapping)
Greg said he wanted to talk about a bullfighter named Brad Dunn. Greg said Brad was at the Twin Lakes Bullfight and Bullriding Clinic in May when he got hooked and tossed by a bull. He fractured his vertebrae. He's still not walking, but he believes in eternity and he believes he'll walk again. Greg said that's something you pray for. (If you'd like to read more about Brad's recovery or send an email to Brad to let him know you're praying for him, click
here
.)
Greg said he first heard this next song when the docs didn't know if he would live or die. He said it's the kind of song he'll be singing when he checks out at 95 or so. I didn't get all the words, but a few lines stuck out:
"When you get to heaven after the trumpet sounds...
...You won't see me, I'll be with Jesus...
...Just find Jesus, that's where I'll be."
When Greg was done, Maurice's Sunday school class did a year-end presentation. He said he had an awesome 8 - 9 months teaching the older kids. For this class, he used, 'Live it Out' which was a study on the book of James. Then with each youth taking a chapter, the class gave brief individual speeches on what they'd learned this past year.
If you would like to speak to Greg about this, please
email
me and I'll pass your msg along.

Comments are appreciated. If you're not sure how, please click on 'comments' under 'Labels' in the right column.

-