Church on the Hill was a wonderful place to be on Thurs night because we enjoyed the gospel music of the Rawling Brothers from Lundbreck, Alberta. Pastor Lorne Bonk introduced them as being from the Pincher Creek area although they lived in Meadow Lake, Sask at one time.
The church was comfortably full with 90 people in attendance. Thank the Lord the weather was good because we had many visitors from an area that stretched from Wolseley and Sintaluta to the north, west as far as Odessa, south to Fillmore and Stoughton, east to Kipling and even farther east to Elkhorn, Manitoba.
I went to the concert with the full intention of enjoying the music first, then cornering the Rawling Brothers into giving me an interview for this blog.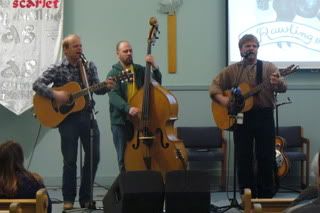 But to ensure I didn't miss a small testimony or two, I took out the digital voice recorder (DVR) I use for plotting my writing while on the run. I wasn't sure how it would work, but I clicked it on, set it on my purse and enjoyed
the
show. Yesterday, when I started writing this blog entry, I plugged the DVR into my laptop and started transcribing everything I heard. Wow! Except for an occasional coughing spurt close to where we were sitting, I heard everything. And, after listening to the concert again, I realized that it was filled with testimonies. So, on a later blog date, I will do the actual interview, but here today, I will let you know what you missed! I would like to add that I'm typing this verbatim – in other words, I'm including all the 'uh's and 'um's instead of filling the paper with … (ellipses or dots). Although there are still dots where I omitted stuff I couldn't hear or didn't feel I had room for.
So, on stage were Doug and Bruce Rawling along with Doug's son, Mark – playing the bass. The concert started with a well-known favorite. This was a great start as the audience was encouraged to sing and clap along.
Song:
I'll Fly Away
When the song finished, Doug pointed to the white banner hanging behind them, wondering if the person who made it was present. No, Kathy wasn't. "Because it's a great banner," Doug said. The banner reflects Isaiah 1:18 "…
Though your sins be as scarlet, they shall be as white as snow…"
Doug: when life is the best for me is when I am walking close to my Savior and, uh - sometimes more than others you know there's the ups and downs of life and everything but what keeps me from being close to my Savior I guess is my sin whether I see it or not and I thank God He has an answer for that.

Song: Just A Closer Walk With Thee
Using the overhead projector, Doug talked about the bible camp he works at called Wilderness Ranch in Alberta. He talked about our how many city people don't get to see the stars. Doug said: "I think that sometimes in a world created by our own hands, it's easy to get kinda mixed up in our thinking. But you know, when you're lying on the side of a hill at night and you got the horses munching grass, and the moon on the mountain, and the hay, and stars overhead, it's easy to remember that God is big and you're not and that's important to remember. It sounds pretty simple but lots of times it's not because we take way too much on ourselves. We worry about things we can't change. We think we can do more than we can. And we're so busy being busy that we forget who God is and that He is great for being who He is. God is big and you're not."
Doug: When you're feeling small and insignificant, it's when you are loved that you matter…we are small and God is big but that God has called every star into being, and knows them all by name. He loves you, so life matters. You know, every time your heart beats, every breath is a gift from Him and that's an awesome place to be - to remember that God is big so we don't have to be. But We are loved.
Song:
The Camp Song
(Wilderness Ranch photos played on the screen behind them. Click here for more info:
http://www.wildernessranch.ab.ca/
)
Bruce: A lot of times…we so much want to do something for God that's big that we maybe miss the little things that He asks us to do, right? And sometimes its the little things we can do for God might seem little to us but they might be really big to someone else. So I'd like to encourage you here in whatever town you came from – I'm sure there's people where you live that need to know the love of Jesus - and we are His witnesses. We are the servants of the Lord. And we carry…when we are Christians, we carry the Holy Spirit in our hearts and we carry a message of hope or a message of forgiveness that the whole world is hungry for whether they know of it or not. And so I'd like to encourage you as you go home just to be aware of all the little things every day where God can use you in your life. And if you can be a vessel for Him.
Song: The Vessel

Doug: You guys are pretty good singers so we're gonna sing some more. Do you know the song I saw the Light? Do you guys know the second verse? We don't…
our version is Jesus Loves Me as the second verse…Jesus Loves Me – it's quite an awesome thing! How do I know?...because the Bible tells us so. We have it on good authority that we are loved by the Holy Son of God our Christ and our Savior and our King. What an awesome thing!

Song: I saw the Light/Jesus Love Me
Song: His Sheep Am I

Doug: I got married when I was twenty yrs old and…I am just so thankful that God has blessed me with a great marriage. And uh - my wife is a sweetheart and she supports me and you know I'm not always home and kinda live my own kind of lifestyle… but I wrote my wife quite a lot of love songs and one time I wrote her a song and she said "if you really love me, do the dishes". Anyway, here's a song I wrote after I did the dishes, called, Still I do.

Song: Still I Do

Bruce teased us about the nonexistent Glenavon Coal Mine. He then did a melodious whistling rendition of the Snow White song, Whistle While you Work as an intro to the next song.

Song: The Coal Miner's song ? (Coughing distortion so I'm not sure of the title.)
Song: I just Wanna Be a Sheep (Delightful, rousing crowd pleaser!)
Doug: We're from Alberta but we are riders fans… you only have to live in Saskatchewan for a little while and…something in the water or something…
Song: Will the Circle Be Unbroken

Doug: We're gonna do the song that I wrote a little bit after Jan 11, 2002 and uh I don't remember dates very good - I even forgot my wife's birthday a couple times - but I remember that date because that is the date our dad went home to be with His Lord. And uh Dad died of cancer and uh - Bruce and I feel really really blessed that we had an awesome father and he loved Jesus and it showed in his life and his actions and uh he knew how to make things fun….any moment is a gift from God and I don't think there's anything much better in this life than good memories. There's nothing much sadder than regret. Things happen that can cause regret and I want to encourage you to make the most of every moment God gives you. It's so easy to take people you love for granted and you know, there's one good thing about cancer - you sure get time to say I love you. And with our father there really wasn't anything left to say that hadn't been said. And I'm thankful for that. It's just the same sometimes - you think you're kinda living in a dark hole - you ever been there? Tryna make sense out of things. You know it's those times that we really need to cling to the promises in God's Word - that God has a plan for us - a plan to give us a future and a hope. In my Father's house there's many rooms. If it weren't so I wouldn't tell you. There's life on both sides of the grave. No matter what the circumstances happen, God never changes.
Song: Window in the Basement
Bruce: Whatever we go through in life …our God is rock steady
Song: Rock Steady
Doug: Thank you so much for being here tonight. And uh - I think you have an awesome little town here…pretty cool restaurant…good bakery…pastor knows how to cook real good – in the microwave! We're gonna play a song we used to do with our Dad - one of his favorites. It's called Golden Slippers and this song is… it's really old… it actually talks about going to heaven. Kind of a fun loving song but it has a good message.

Song: Golden Slippers
Bruce: Now the bible says that we're supposed to be thankful people. We're supposed to give thanks when… all the times, yup in all circumstances. Sometimes that's easier to do than others…but we're supposed to do it. And that is a witness to people. When we can be not grumpy. When we can be happy as a witness. There is a light that shines to people and uh we're gonna do a song that you can sing sometimes when you're feeling grumpy - I know cause I get grumpy once in a while - and this song just cheers me up anytime.
Song: Keep on the Sunnyside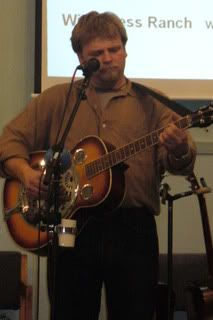 As the musicians were leaving the stage, Pastor Lorne stepped forward and said they had a request to hear a song with the Dobro resonator guitar that Bruce had resting up on the guitar stand.


Song: Leaning on the Everlasting Arms (with Bruce playing the Dobro)


Pastor Lorne thanked everyone for coming – for driving all this way to be with us tonight. He then mentioned the table full of Rawling Brothers CD's in the foyer if anyone wanted to take some of the music home with them. Downstairs, we had a chance for refreshments and fellowship.

You can see what songs are listed for each of their CD's and even hear samples of their songs.