The is my understanding of Sunday's sermon.
References: Luke 12:22-31, Ecc 3:11-14 and John 3:15-17, Psalm 23
http://glenavonchurch.googlepages.com/library
God created us. As His children, we aren't to worry about physical things of this world, for He will take care of us as long as we trust Him to do it. "But seek His kingdom, and these things will be given to you as well." Luke 12:31
Although we need food and shelter for our physical health, we also need the emotional, social and spiritual health that comes from being happy and at peace with our families, friends, and the rest of the world.
Pastor Lorne used the example of the symbol for the nearby Wolf C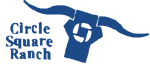 reek C
ircle Square Ranch. The symbol is a circle with a square in the centre to show the relationship we have with God. The four parts of the circle represent the 4 areas of our lives. The square reminds us that we need God's presence equally in all 4 areas to lead a balanced life while on this earth.
Again, the 4 areas are: spiritually, mentally, socially and physically.
Pastor Lorne likened the areas of our lives to puzzle pieces. Each part has a specific place that it tucks into nicely, but only when you add God does the puzzle become complete.
To find out more at about Wolf Creek Circle Square Ranch, click here:
http://www.csranch.ca/wolf_creek/index.html
Please post a comment. I'd be interested to hear your opinion.